2019 KICKOFF BONSPIEL- October 18-20 and TWO MINUTE CURLING LESSON
---
---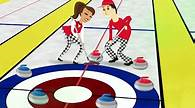 ---
2019 KICKOFF BONSPIEL- October 18-20 -
Sponsored by:


This is Fort McMurray Oilsands Curling Clubs newest open bonspiel. This spiel is designed to encourage existing members to bring new curlers to our curling club.
The more new people you bring to the bonspiel, the cheaper your entry fee is.
*Existing member is anyone that was part of the Fort McMurray Oilsands Curling Clubs in 2018/2019.
* A team is defined as four curlers
SIGN UP AT: fortmcmurray.curling.io under the Competion Tab
Planned Schedule of events:
Friday 6-7pm - Ice will be available to provide a quick lesson to new curlers on your team.
Friday 8pm - First Draw will take place
Draw to the button will take place after your first game
Come upstairs to the Frosty Fox after the game for some games
Saturday Morning - Coffee and muffins sponsored by Owl Moon Environmental Inc.
Bonspiel games will start at 8am
Finals of the draw to the button